Position Integrity and Rapid Imaging Join Forces to Provide 3D Situational Awareness for the PACMAN Initiative
April 1, 2002
Today Rapid Imaging Software President Michael Abernathy and Position Integrity Managing Principal Robert Severio reached an agreement for integrating "LandForm C3" software with the PACMAN software plug-in for Falcon View to provide dynamically rendering 3D images on the PACMAN device.  This in a joint effort to provide advanced situational awareness in support of Operation Enduring Freedom.
<![if !vml]>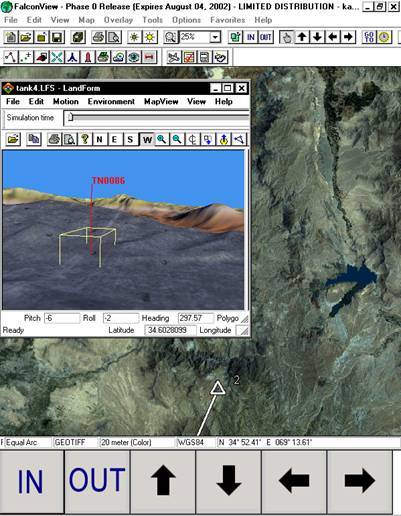 <![endif]>
Pilots have often complained about the numerous shortcomings of existing 3D applications. Therefore, to augment the existing PACMAN/Falcon View 2D suite in a useful manner, LandForm C3 allows pilots to better view ground targets in rehearsal mode for their time-critical-targeting missions. The software uses existing terrain and imagery products natively stored on the PACMAN device and generates perspective views on the fly. Users can fly throughout the entire "kill box" with six degrees-of-freedom while viewing multiple resolution imagery simultaneously. The software can display wire-frame domes around offending SAM sites, place tall flags over assigned targets specifying the TN numbers, depict precision approach glide slopes, and place other 3D models into the perspective scene. The system also has the unique capability to anchor the target destination viewpoint in a way that matches the aircraft targeting pod cockpit presentation. This function was originally designed to match the Navy Lantirn Pod. All pan and zoom functions can be engaged with the existing pen-computing buttons, and scene updates rates are comparable to SkyView. This event marks a milestone in solving the 3D challenge in software, and now the solution has been proven and bench tested on the existing PACMAN/Fujitsu LTP-600 computer without the need for additional hardware acceleration.
For more information on the PACMAN initiative, please visit the PACMAN information site at:  http://www.pacman-dod.org/info.html.
Position Integrity, LLC is a privately held company with over 20 major international customers in the commercial, scientific and military aviation domains. 
For more information on this project or the products and services offered by Position Integrity, LLC, please contact: Robert Severino at Position Integrity or by email at:
rseverino@positionintegrity.com.