Overview
Like its sibling product, Digital Aviator, the Digital Mariner is a FREE moving map and route planning software application. It offers a detailed vector-based world map and a GPS interface to allow for simple route planning and worldwide enroute progress tracking.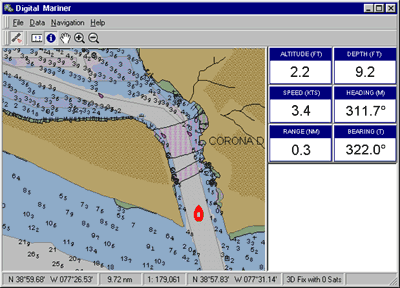 Details
Unlike most marine moving map applications on the market today, Digital Mariner provides everything you need for global navigation in a single package. A detailed vector base map with worldwide inland waterways and a NMEA 0183 GPS interface are included in this FREE application. You can optionally purchase additional data products to enhance your overall situational awareness, but you are not obligated to do so in order to download and use the Digital Mariner.
Our marine navigation database is comprised of advanced datasets currently being produced and maintained by the United States Military and other participating military organizations around the world. Our marine data products are derived from these datasets and specially formatted for use with Digital Mariner. These advanced datasets offer mariners the ultimate in situational awareness: the look-and-feel of raster charts, with infinite zoom and seamless worldwide coverage found only in vector products. The end result is truly a technological advancement over the marine data products currently available today.
For clients with an investment in older raster-based marine charts, the Digital Mariner offers an import facility that can be used with Maptech and SoftChart products. The Digital Mariner's layering technology allows advanced vector datasets to be overlaid on legacy raster charts and imagery for the ultimate in two-dimensional marine situational awareness.
Availability
Due to certain restrictions of the military datasets used by Digital Mariner, we are unable to release the product to the general public at this time. Our military sponsors have informed us that public availability of this data will be announced by year-end 2000. However, because of our active military sponsorship, we have immediate access to the data and are working now to package it for sale to our future clients. We are also in the process of remove some of the protected data elements, so that we can deliver the Digital Mariner with its detailed global base map in the interim.
If you are a defense contractor with an active security clearance, you may obtain a copy of the Digital Mariner by contacting us via email or telephone.