What's New
The Digital Aviator now includes support for Microsoft Flight Simulator! Instead of using a GPS receiver (or the built-in simulator), you can simulate live flight using the most popular simulator on the market.
Overview
The Digital Aviator is a comprehensive moving map utility for pilots. Originally developed as part of a joint demonstration effort for NASA, the Digital Aviator combines IFR vector data from a variety of government sources, VFR raster aeronautical charts, and a GPS interface. The result is a simple, yet remarkably powerful, navigation software application. Best of all, it's FREE forever, including upgrades you can obtain online!
Details
The Digital Aviator combines a simple user interface with a powerful set of situational awareness features. With mimimal keystrokes and/or mouse clicks, operators can quickly change their tactical view from VFR to IFR and back.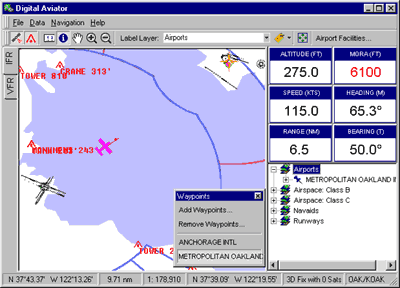 The Digital Aviator automatically keeps both views in sync based on the movement of the aircraft and/or the current screen position you specify.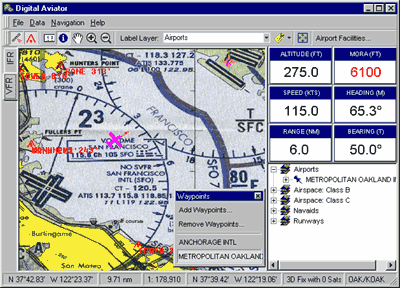 The Digital Aviator contains an integrated and accurate vector world map, which references the WGS-84 Ellipsoid. All IFR DataPacks, which are also vector based, are dynamically re-projected to the base map thereby ensuring the highest visual accuracy at any scale.
Our VFR Aeronautical Charts, are seamlessly "stiched" into the base map on-the-fly, providing the best possible accuracy without resampling the raster image data itself; a process that can be costly and time consuming.
The Digital Aviator also integrates government obstacle data and provides a collision avoidance system that warns of imminent danger. As your position is updated by an attached GPS receiver, the collision avoidance feature continuously analyzes your position relative to dangerous obstacles around you.
Position Integrity remains committed to enhancing the Digital Aviator and other free software applications to compliment its expanding line of data products and customized data subscription services. Our engineers are working hard to expand the capabilities of Digital Aviator to include additional datasets like global high-resolution terrain, terminal procedures (SID, STAR, approach), and other valuable aeronautical navigation data.
Pentium 133 Mhz or better
32 MB RAM (64 MB recommended)
150 MB free disk space for full install
50 MB (approx) for each VFR chart
NMEA 0183 serial output
Supports sentences: GGA, GLL, GSA, RMC, VTG
150 MB free disk space for full install
50 MB (approx) for each VFR chart
MS Flight Simulator Requirements (optional)

Microsoft Flight Simulator 95, 98, or 2000
OEM and Resellers
If you are an avionics manufacturer or system integrator and are interested in bundling the Digital Aviator with an overall navigation solution, you may do so by contacting us for a free non-exclusive distribution license. Source code may also be provided under certain circumstances. Further, we can augment the user interface of the product as necessary to meet your specifications. In this sense, you can sell the Digital Aviator as your own software application.
For further information, please click here.